Pietra Divina
See More about Pietra Divina >>>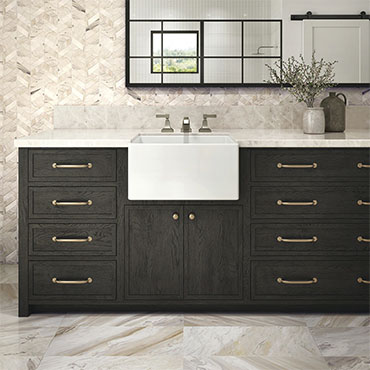 Divine Design
Pietra Divina™ sets a heavenly standard for natural stone. Three exquisite marbles feature a color palette that includes white with grey veining, white with warm gold movement, and a marvelous black with delicate white accents. This versatile line offers the popular 4x12 and 12x24 tile sizes as well as a full selection of mosaics available in solid colors and blends. Additionally, Pietra Divina™ showcases a new 6x12 bamboo structure mosaic that can be installed in a variety of patterns giving you freedom in design.
BREATHTAKING MAGNIFICENCE
Exquisite color palette and stunning veining with varying dimension
12x24 tile available in polished and honed
4x12 tile available in honed
½ x 12 petite pencil rail offered in honed
IMPRESSIVE MOSAIC ASSORTMENT
Framework mosaic puts a unique twist on square and diamond shapes
Cupola mosaic offers a high-end oval look comprised of round and rectangular pieces and is available in solids and blends
Spectrum mosaic combines triangles with diamond shapes in blends of coordinating marble colors and metallic accents
On-trend and proven chevron and triangle mosaics available in solids
Unique 6x12 bamboo structure mosaic can be installed in a variety of ways to achieve marvelous patterns
---
NOTE:
Interior Floors LLC does not carry every style of product. Check with us first about a particular product or to see if your product choice is available for special order.
---

---
Daltile® Stone
Daltile offers porcelain, ceramic and natural stone tiles and slabs including medallions glass and metal tiles.
---
Profile
|
Website
|
Design Tools