Wood Flooring: Cork Tile Flooring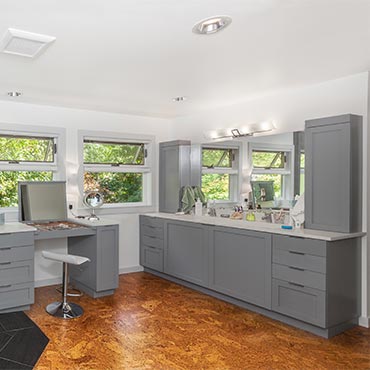 Cork flooring offers numerous benefits to consumers searching for something new and exciting for their home. Natural cork flooring is comfortable to walk on... providing a cushion for your feet. Cork flooring creates a feeling of  warmth... a good non-allergenic alternative to carpeting.  Cork tile flooring is durable, fire resistant, anti-microbial,  insect resistant, and a thermal insulator. A cork floor is an excellent choice for a child's room, family room,  kitchen, or bath. It is water resistant and absorbs sound providing superb acoustical properties.
 In addition, cork sheet flooring is a "green-building" product that is good for the environment. It is completely natural and environmentally friendly because it is made from the bark of the cork oak tree and is harvested without damaging or chopping down a single tree.  These trees grow primarily in the south of Portugal, Spain, and North Africa and can live for 150-200 years. The trees are not cut down but the bark is stripped away. It immediately begins to grow back and can be peeled again about once every nine years. Cork flooring is made from a renewable and sustainable resource that does not contribute to deforestation.
Cork floor tile is a very resilient product, retaining its shape and elasticity under heavy traffic conditions, no matter how much it is walked on. Its been popular for use in public buildings such as schools, hospitals, churches, banks, libraries, court houses and other government buildings. In fact, cork flooring was installed over a 100 years ago and still stands in the Library of Congress in Washington, DC.  The oldest cork flooring installation in the United States is in a church near Chicago dating from 1898.
Cork flooring  is even durable enough to hold up to furniture and high heels! That's because each square centimeter of cork composed of 40 million cells - each cell functioning as a miniature shock absorber.  These cells, as well as the spaces between them, are filled with a gaseous mixture similar to air.   The softness and resilience of the flooring causes less of a grinding action to occur with normal foot traffic than on harder surfaces such as hardwood floors. That is what makes cork so remarkable and ideal for flooring.
Cork flooring is a beautiful natural product which adds warmth and enriches any interior space. Cork flooring always blends in well with any home décor and furniture and comes in a wide variety of colors and shades from very light to dark. Colors include: its well-known honey tones to green, red, chocolate and black, . It also comes in a wide selection of patterns and textures, including wood grain and marble.
Perhaps the most valuable asset of cork flooring is the ease of maintenance. Cork flooring is easy to clean and maintain. Sweep with a broom to remove dust and debris. You can mop the floor with a damp mop as needed. The surface finish may begin to wear off after several years requiring a light sanding. Reapply a coat of urethane after sanding and your cork floor will look beautiful and last for decades.